The final mural in phase one of SWG3's open-air street arts trail, weaving through the neighbourhoods of Govan, Partick and Yorkhill, is now complete.
It's been an enormous pleasure this month to have completed the final mural in our Glasgow street arts trail — a stunning large scale piece by KMG on Govan's Crossloan Road. Built around a theme of migration and new families arriving in Glasgow, KMG's striking work across a tenement gable-end depicts two birds cradling their young. 
It's just one of the works you can now see in the streets and corners of the neighbourhoods surrounding the SWG3 complex, forming part of an open-air gallery of street art that anyone and everyone can access and enjoy, bringing together art, architecture and communities.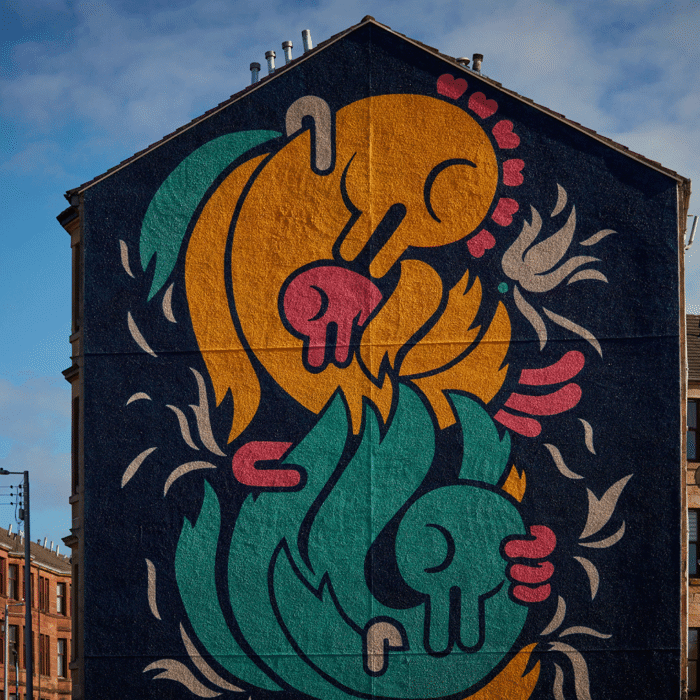 Across the past few months we've been working alongside internationally-renowned street artists on transforming the Glasgow Riverside Innovation District (aka G.R.I.D.). The area, which spans the edge of the city centre, through the west end and south of the river, currently comprises a lot of vacant and disused land, which is in the process of being transformed to develop opportunities, facilities, culture and more.

With SWG3 sitting at the heart of G.R.I.D., through our street arts and graffiti initiative Yardworks, we wanted to bring all the colour and skill and joy to be found in street art not just to the SWG3 complex, but expanding out into the surrounding neighbourhoods and linking these communities. With the trail weaving through Partick, Yorkhill and Govan, some of Scotland's most innovative street artists, including Smug, KMG, Mark Worst, Molly Hankinson and Tragic O'Hara have worked on this project alongside members of the local communities to create art that the people living there can be proud of; art that means something to them.