Sue Tompkins is the first in a series of contemporary artists to display a new work at SWG3 as part of the Billboard Project.
Curated by artist Jim Lambie and SWG3, the project takes the 12-metre-wide billboard — installed on the Galvanizers' corrugated steel sides during The New York Times Climate Hub, in November 2021 — and transforms it into a blank canvas. 
Premiering with Tompkins' starkly arresting new work, on display from June to December 2022, the billboard will then play host to a rotation of new works from other contemporary artists in the following months. 
Reworked into billboard format and scale, Tompkins' new work, titled SMASH, comprises a series of six text works produced by Tompkins for the exhibition STATUS need a world interlude, held at The Modern Institute, Aird's Lane, Glasgow earlier in the year.  
Within these works Tompkins investigates her interest in language and its intrinsic personal familiarities. Contorting words and sentences collated from day-to-day experiences, Tompkins' language becomes undecided, a stream of consciousness, that when written or spoken pivots between meaningful and meaningless, a deliberate balance that can be interpreted as one.
The text works — typewritten on neon paper — are not chronological but instead disconnected miniature statements. They often form the basis of the artist's otherworldly poetic and music-like performance, as well as acting as visual queries into type and language.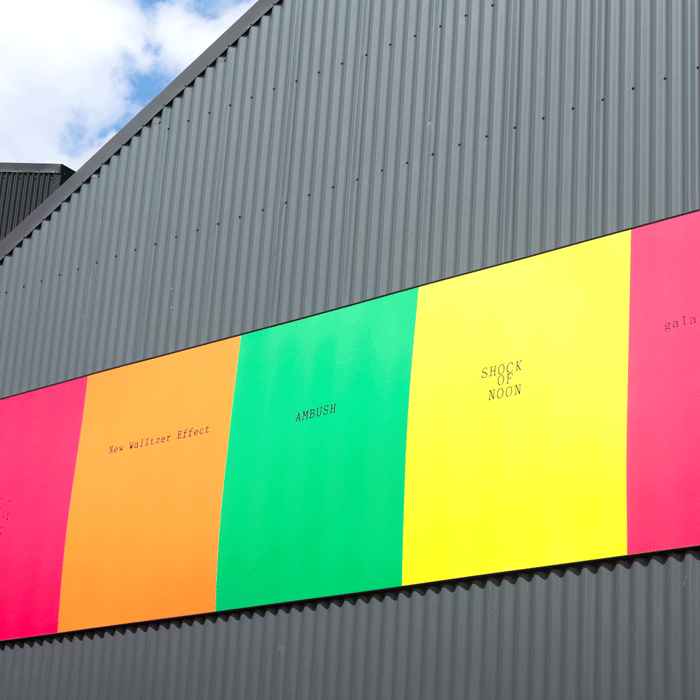 About Sue Tompkins
Sue Tompkins (b. 1971, Leighton Buzzard) lives and works in Glasgow. Working with fragments of language gathered from everyday encounters and experiences, Tompkins' practice incorporates text, sound, installation, painting and performance.
Tompkins graduated from the Glasgow School of Art in 1994 and has been involved in exhibitions and performances worldwide including solo exhibitions at Halle für Kunst, Lüneburg; Lydgalleriet, Bergen; Tenderbooks, London; The Gallery of Modern Art, Glasgow at Glasgow International; The Modern Institute, Glasgow; Inverleith House, Edinburgh; Spike Island, Bristol; and Contemporary Art Museum, St. Louis. 
She has presented performances and been included in numerous group exhibitions including those at: Sonar2018, Barcelona; Schirn Kunsthalle, Frankfurt; Tate Britain, London; mumok, Vienna; Tramway, Glasgow; BBC Scotland, Glasgow, White Columns, New York; Midway Contemporary Art, Minneapolis; Wysing Arts Centre, Cambridge; the 29th São Paolo Biennale, São Paolo; the British Art Show 7 at the Hayward Gallery, London and touring; MACBA, Barcelona; ICA and the Tate Modern, London; and Artists Space, New York.
Tompkins was shortlisted for the Beck's Futures Prize in 2006 and received the Paul Hamlyn Award in 2011.